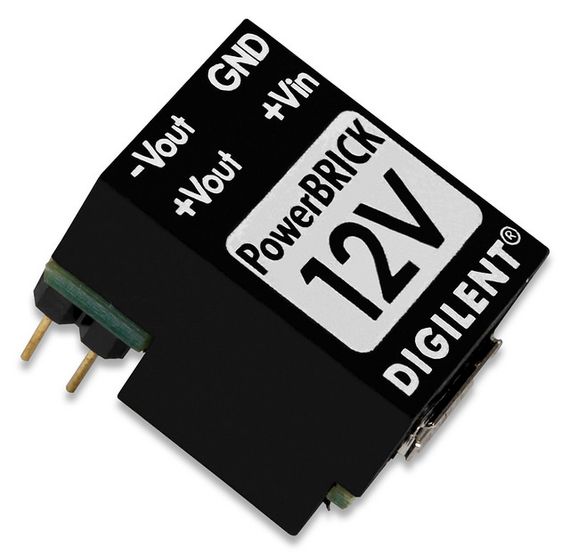 PowerBRICKS: Breadboardable Dual Output USB Power Supplies +/-12V (100mA)
Uses USB power to provide regulated voltage to your breadboard.
---
Item number VAR-827000412
---
Out of Stock, restocking in progress
Expected dispatch delay beyond available stock: 2 months
---
---
Every circuit needs a power supply, but simple, low cost, portable, and reliable power sources can be hard to come by. That's why we've designed the PowerBRICK family as the perfect solution to all of those requirements.

PowerBRICKS are designed to easily plug directly onto your breadboard for simple, low profile integration. There are 4 options to choose from: 12V, 9V, 5V, and 3.3V. Each is powered by USB and can provide up to 1.1W of power. In addition, PowerBRICKS can be daisy-chained to provide more than one +/- Vout pair. (Total power output for the entire chain should not exceed 2.2W.)
Features
Plugs into your breadboard for simple integration
Powered by USB
Provides up to 1.1W
Available in 4 output voltages:
+/-12V (100mA)
+/-9V (130mA)
+/-5V (200mA)
+/-3.3V (320mA)
Scope of Delivery
1 x PowerBRICK Power Supply Module +/-12V (100mA)
References
Manufacturer: Digilent Inc.
Manufacturer's article name: PowerBRICKS: Breadboardable Dual Output USB Power Supplies
Manufacturer's article number: 410-293-A (12V)
Resources
Other Digilent products are available on request.
| | |
| --- | --- |
| Item ID | 100313 |
| Condition | New |
| Legacy item ID | 2417 |
| Model | 410-293-A |
| Manufacturer | Digilent Inc. |
| Manufacturing country | Taiwan |
| Content | 1 piece |
| Weight | 11 g |
| Net weight | 11 g |
---